An Encomium to the Potlatch - Thanksgiving Words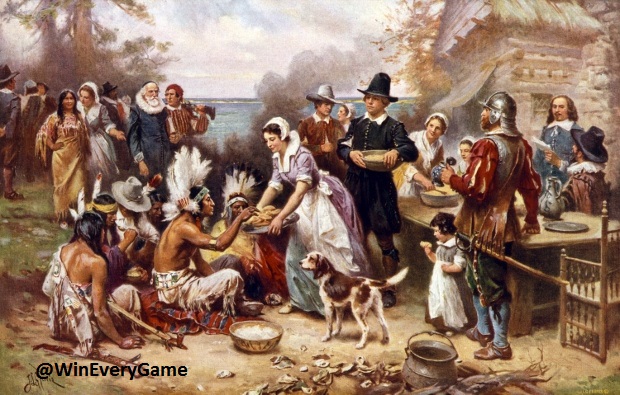 Amongst the darkening days and cool, crisp air of autumn comes a holiday where friends and family warm themselves with love, thankfulness, and steaming pumpkin pie (with added bonus of no looming elections). Although none of us were present for the first Thanksgiving, we know that it must have been quite a feast simply by the pains we take each year to recreate the tasty smorgasbord! They say that imitation is the highest form of flattery, so the least we can do is cook a meal as a fitting requital for the founders of this delicious holiday.
Before we preheat our ovens, let's take a minute to cogitate the true purpose of this stomachache inducing potlatch that is about to take place. The story goes that the Pilgrims of Plymouth Plantation, in an effort to give thanks for the plentiful harvest and the indispensable largesse of the Wampanoag Native Americans, invited their neighbors to a sit-down dinner. This meal was meant to further establish a pleasant concord between these two groups of people and set a precedent that would continue throughout their amity with one another. Today, we follow this tradition by visiting our loved ones and eating an abundance of food for largely the same purpose of those who came before us: to show appreciation for what we have been given. It really is a beautiful thing, once you get past Uncle Al's screaming at the Thanksgiving football.
If we could write an encomium to the guests at the first Thanksgiving, we would have to thank them for this beloved day that has been passed down to us, their progeny. As we crack open our cookbooks and crowd the supermarkets, let's make sure that we are still in accord with the main reason we celebrate this fine fall day. We've come up with a list of words that will get you in the spirit of thankfulness, so be our guest and check them out before the family comes over. And do remember to extol your folks for scrumptious stuffing and the opportunity to spend time together!